The human body has more than 60,000 miles of blood vessels. These arteries and blood vessels are much more than just plumbing for blood. Arteries deliver oxygen, nutrients, hormones, and growth factors to cells. Veins remove toxins and waste products of metabolism from cells. The immune system also circulates in the bloodstream to protect us from foreign invaders.
What happens to the blood when there is inflammation from viruses, bacteria, mold, and mast cell activation syndrome (MCAS)? The clotting cascade is triggered, the blood becomes thick, and its ability to deliver necessary compounds and remove metabolic waste is diminished. The hypercoagulated blood causes symptoms and interferes with the body's ability to heal. Assessing and treating hypercoagulability is a critical step in healing from chronic illness.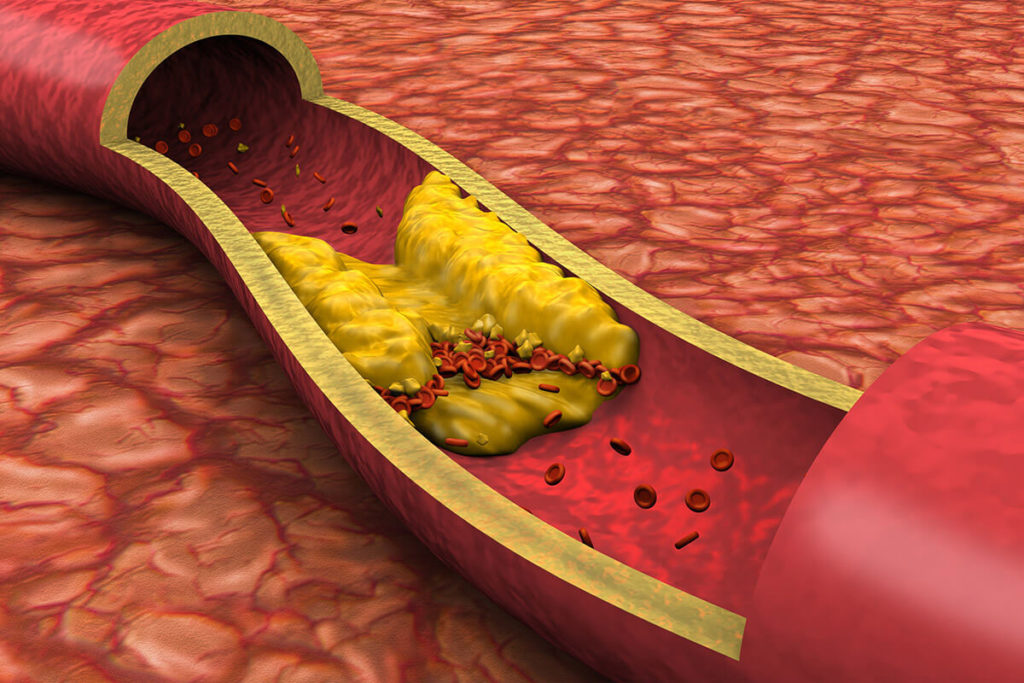 Blood Clotting in Normal Circumstances
Blood clot formation is required to sustain life. Cut your finger chopping vegetables and a blood clot forms to prevent excessive blood loss. We do not give this response (referred to as hemostasis) much thought. We can easily take for granted the complexity of the clotting cascade and eventual degradation of the clot.
There are extrinsic, intrinsic, and common pathways involved in clot formation. The extrinsic pathway is activated by external trauma such as scraping an elbow during a fall. The intrinsic pathway occurs when there is trauma or inflammation inside the body. After the tissue has healed, clot breakdown, or fibrinolysis, occurs to restore normal blood flow. About 20% of the population has coagulation defects making them more susceptible to abnormal coagulation.
A Hypercoagulable State Starves Cells of Oxygen and Nutrients
Capillaries make up 80% of the 60,000 miles of blood vessels in the human body. The internal width of a capillary is 8-10 microns in diameter (a human hair is 50-100 microns in diameter), and red blood cells are about 7 microns wide. The sludge-like fibrin layer formed during a hypercoagulable state is about 1 micron thick.
The additional 1 micron of fibrin on endothelial cells reduces oxygen exchange by capillaries from 2 seconds to 5.3 minutes! The decreased oxygen delivery to tissue and organs causes the tissues not to function correctly, leading to symptoms. Compounding the effects of reduced oxygen delivery in hypercoagulation, nutrients and hormones do not get into cells. Also, toxins and waste products from cellular metabolism are not removed.
Hypercoagulation in Lyme Disease
Increased coagulation may be the body's response against viruses and bacteria. The fibrin production in hypercoagulation contributes to biofilm formation where infections reside to increase their survival. A study of patients with Lyme disease indicated that 81% had two or more markers of low-level activation of coagulation.  
Another interesting finding of the report revealed 86% of those with Lyme disease had genetic predispositions for increased coagulation. In the general population, 20% have genetic defects for increased coagulation. This raises the question – does a genetic coagulation defect increase the risk of developing chronic Lyme disease?
Lyme disease testing is primarily performed with antibody testing. Some people have positive antibodies for Lyme disease but do not have symptoms. Could a genetic defect for coagulation be the determining factor in whether or not a person develops symptoms, and goes on to get diagnosed with Lyme disease?
Viruses, Bacteria, and Mast Cell Activation Syndrome (MCAS) Create Hypercoagulability
Pathogens such as viruses, bacteria, and mold create an inflammatory state in the human body. Inflammation triggers the coagulation cascade leading the formation of an insoluble mesh-like protein called fibrin. Fibrin is deposited along the inner blood vessel cells called endothelial cells. Bacteria such as Bartonella and viruses get trapped in the fibrin, which contributes to their survival.
It is well documented viral infections increased coagulation. Recently, there has been a surge of studies published implicating coagulopathy as the cause of serious illness – even death – in COVID-19 (1, 2, 3, 4). Bacterial infections have also been associated with increased coagulation – possibly as a way to trap and kill the infection to protect the human. Mast cell activation syndrome (MCAS) is also associated with coagulation abnormalities.
Lightheadedness, Dysautonomia, and POTS Caused by Excess Fibrin Production
The fibrin layer along blood vessel walls creates stiffening of the vessel, which interferes with the vessels' ability to expand and contract as they do in normal circumstances. A common symptom in chronic illness is lightheadedness, especially with a change in position. More severe forms of lightheadedness are diagnosed as dysautonomia and postural orthostatic intolerance syndrome (POTS). The spectrum of this presentation can be caused by the inability of blood vessels to expand and contract.
Slow Capillary Refill is a Sign of a Hypercoagulable State
The capillary refill test is an objective sign of the ease of blood flow in vessels. Capillary refill can be tested by pressing and releasing a fingernail, then timing how long it takes for the red color to return under the nail. In a healthy state, capillary refill occurs in 2 seconds or less.
Reperfusion is reduced in conditions associated with increased inflammation. One study showed reperfusion took six seconds in rheumatoid arthritis, seven seconds in scleroderma, and seven seconds in fibromyalgia. Blood viscosity is increased in these autoimmune and inflammatory conditions contributing to decreased blood flow.
Symptoms of Hypercoagulability
The signs and symptoms associated with hypercoagulability are related to diminished blood flow. Decreased oxygen delivery, poor distribution of nutrients, hormones, and growth factors, and reduced removal of toxins and metabolic waste are the primary causes of symptoms.
Generalized pain, Deep aching pain, Sharp stabbing pain
Brain fog, Irritability, Anxiety, Mood swings
Insomnia, Restless leg syndrome
Pain and stiffness after waking or sitting for a period
Nausea, Decreased morning appetite
Sensitive teeth
Fatigue, Chronic fatigue syndrome (ME/CFS), Exercise intolerance, Pain worsened by exercise
Cold hands and feet, Decreased capillary refill.
Mottled skin
"Doughy" abdomen with tenderness
Edema in legs, Redness in feet
Laboratory Testing for Hypercoagulability
Identifying a hypercoagulable state is a critical step in resolving chronic illness. Addressing thick, clotting blood and fibrin sludge on blood vessels increases the effectiveness of other treatments (for infections, for example), speeds up recovery time, and reduces symptoms. Testing coagulation markers also helps to determine when infections are resolving.
Coagulation testing is performed at LabCorp or Quest Diagnostics. Esoterix Laboratory Services was a pioneer of coagulation testing. LabCorp acquired Esoterix, and many of these tests are performed at Esoterix when blood testing is ordered through LabCorp. This makes LabCorp my preferred lab for coagulation testing.
Prothrombin Fragment 1 + 2
Anti-thrombin Activity
Lipoprotein (a)
Alpha-2-Antiplasmin
D-Dimer
Fibrinogen Activity
Plasminogen Activator Inhibitor (PAI-1)
Factor II Activity
Homocysteine
Protein C Activity
Protein S Activity
Thrombin-Antithrombin Complex
To download or print the Coagulation Tests and Specimen Handling to request lab tests from your physician and instructions for the phlebotomist, click here for LabCorp or here for Quest.
Preferred Reference Ranges for Coagulation Markers
The preferred reference ranges for coagulation markers are more specific than the laboratory's ranges. Coagulation researcher David Berg established preferred ranges after removing results from people with genetic coagulation defects since their results would skew the ranges. Below are the preferred result ranges.
Pro-coagulant
| | |
| --- | --- |
| Prothrombin Fragment 1+2 | 90-300 |
| Fibrinogen | 200-325 |
| Factor II Activity | 90-110% |
| Thrombin/Anti-thrombin (T/AT) | 2.0-4.1 |
| Homocysteine | 6.0-10.0 |
| PAI-1 | <31 |
| Lipoprotein (a) | <75 |
| Alpha-2 -Antiplasmin | 80-110 |
Anti-coagulant
| | |
| --- | --- |
| Antithrombin III | 80-120% |
| Protein S | 80-120% |
| Protein C | 80-120% |
| D-Dimer | <0.50 |
Click here to download or print the Coagulation Results Preferred Reference Ranges form to enter your results.
In healthy clotting activity, the pro-coagulant and anti-coagulant proteins are balanced. If the pro-coagulant proteins are elevated, the anti-coagulant proteins should elevate in response. In a hypercoagulable state, the pro-coagulant proteins are elevated, and the anti-coagulant proteins are normal or low.
Fibrinogen is elevated in acute and chronic infections. Fragments 1+2 are elevated in blood clot formation. Typically, Thrombin/Anti-thrombin (T/AT) activity increases with elevated Fragment 1+2, so it is necessary to look at the relationship between these two markers. Factor II activity greater than 120% in someone with a tickborne infection suggests the blood is hypercoagulable. D-dimer is evidence of fibrin breakdown, so elevated levels indicate hypercoagulability.
The breakdown of fibrin is referred to as fibrinolysis. Infections interfere with fibrinolysis contributing to increased coagulation. Plasminogen activator inhibitor-1 (PAI-1) and Alpha-2-antiplasmin block fibrin breakdown, so elevated levels of these two markers are associated with increased coagulation. Lipoprotein(a) is a slow inhibitor if fibrin breakdown. A Herxheimer reaction in chronic infections may cause an increase in Lipoprotein(a), and the body cannot breakdown the excess fibrin quickly enough.
The anti-coagulant markers Anti-thrombin III, Protein S, and Protein C should be in a 1:1:1 ratio. An imbalance in the ratio indicates an acute or chronic infection, genetic weakness, or a physiological adaption to a hypercoagulable state. Low Protein S is consistent with a chronic hypercoagulable state caused by chronic illness.
Treatment for Hypercoagulability
Fibrinolytic enzymes are the primary treatment of a hypercoagulable state. These enzymes breakdown the fibrin that has formed in response to inflammation driven by chronic viral and bacterial infections, mold and toxin exposure, auto-inflammatory conditions, and mast cell activation syndrome.
Lumbrokinase is a fibrinolytic enzyme that breaks down fibrin inside and outside of blood vessels. The brand name Boluoke manufactured by Canada RNA has proven to be the most effective lumbrokinase. Enzymes used to break down fibrin should always be taken on an empty stomach, at least 30 minutes before meals. Alpha-2-antiplasmin levels determine the dose of Boluoke (see below). It is best to always start with a low dose of a fibrinolytic enzyme to minimize the release of infections and thrombin trapped in fibrin.
Boluoke dose based on Alpha-2-antiplasmin levels:
Alpha-2-antiplasmin 75%-125% – 1 capsules twice per day
Alpha-2-antiplasmin 125%-150% – 2 capsules twice per day
Alpha-2-antiplasmin >150% – 2 capsules three times per day
Nattokinase is another fibrinolytic enzyme used to dissolve fibrin deposition. Allergy Research Group manufactures the preferred of Nattokinase in a soft gel that comes in 36 mg and 100 mg dosages. Lab results of coagulation markers aid in determining the most effective dose. Nattokinase can be taken at the same time as lumbrokinase (on an empty stomach).
If the Prothrombin Fragment 1+2 level is higher than 340 pmol/L, daily subcutaneous heparin injection should be considered.
Is Hypercoagulability Causing Symptoms and Interfering with Your Treatment?
Chronic illness is associated with increased inflammation, which can lead to a hypercoagulable state. Thick blood and fibrin deposition along blood vessel walls decrease the delivery of oxygen, nutrients, hormones, and other essential compounds to cells. A hypercoagulable state also reduces the ability of blood to remove toxins and metabolic waste from cells. Fibrin contributes to biofilm formation where viral and bacterial infections can evade the immune system and contribute to constant, low-level inflammation.
Assessing hypercoagulability is easily accomplished by a correctly performed blood test at LabCorp or Quest Diagnostics. The Coagulation Results Preferred Reference Ranges form above can be printed so you can enter your results to determine if you are experiencing hypercoagulation. Treating a hypercoagulable state reduces symptoms, speeds up healing, and improves the outcome of chronic illness.
---
Share This Post
---
Related Articles
---